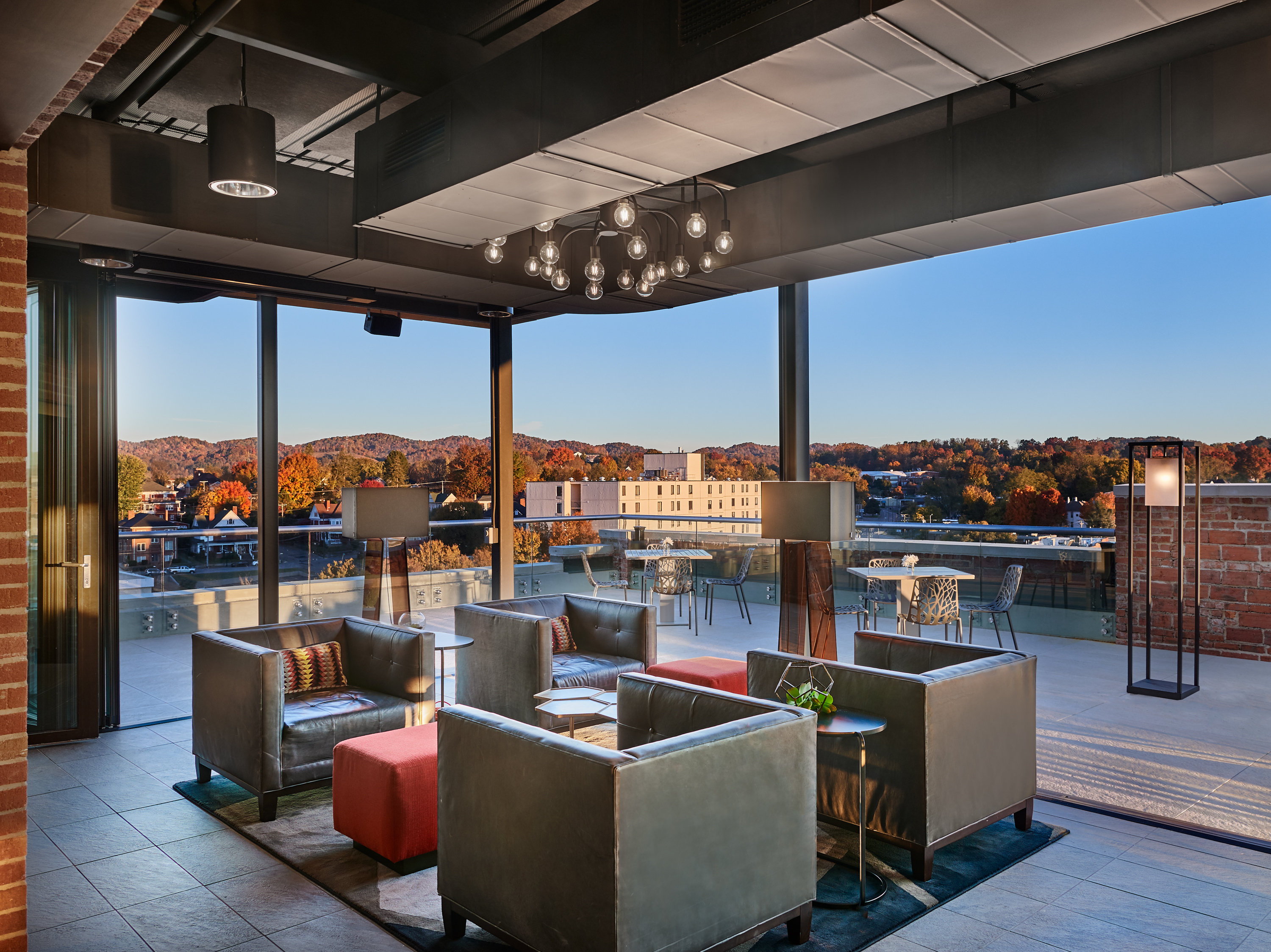 The Bristol was born in 2015 when a commercial office building with historical character was marked for demolition. The Charlestowne Hotels group acquired it, hiring ESa (Earl Swensson Associates) to redesign and restore it, developing the eight-story brick building into a 65-key hotel.
Bristol is a town on the border of Virginia and Tennessee. It's been recognized as the birth place of country music: In 1927, Ralph Peer of Victor Records went out there to record some folks by the names of The Carter Family and Jimmie Rodgers. The rest is history. That's why the address of the The Bristol is 510 Birthplace of Country Music Way. With such an interesting location and history, The Bristol was going to have to incorporate those influences into its design.
The designers from ESa gathered together various pictures and mood boards that evoked the look and feel they were hoping to achieve and shared them with their HVLG source. Our dedicated contract and hospitality representative in the area had a long-standing relationship with the lead designers, as well as a deep familiarity with our product. She helped the designers select fixtures that would meet the project's aesthetic needs, as well as its pragmatic ones.
As one of the standard products selected, Hudson Valley Lighting's Humphrey pendants and chandeliers adorn many of the rooms. HVL's contemporary classic feel meant these fixtures look as at home in the brand new rooms as they may have in the flourishing Art Deco period when the building was first constructed. Providing the ambient layer of light, these exquisite fixtures also contributed to a higher level of decorative sophistication for the space.
Corbett fixtures also enhance visitors' experience; with their impressive scale and hand-applied leaf finishes, we often say of our Corbett pieces that they have to be seen in person to be believed.
Additionally, our HVLG Contract Custom team got to work on designing a few special pieces, such as pendants for The Bristol's awesome rooftop hangout, chandeliers for its banquet room, and a series of sconces for its conference room area. ESa reviewed initial drafts of the designs and made some adjustments. Once they were completely happy with the plan, we proceeded to build these one-of-a-kind fixtures on time and on budget.
Sitting eight stories up in a town without a lot of high-elevation buidings, The Bristol's special rooftop relaxation zone, Lumac, has a beautiful view of the surrounding environs—the painted brick sides of old buildings, the nearby hills, twinkling downtown lights, and the town's charming entry gate. Originally built in the twenties, the whole thing feels almost like something out of a Baz Luhrmann film, with a distinct slice of heartwarming Americana. We designed a custom outdoor pendant for this beautiful rooftop bar area, adding to its singular charm.
But don't take our word for it: The Bristol was then named one of the "10 Best New Hotels" in USA Today Readers' Choice Awards and its Lumac rooftop bar where bands play under the stars and guests mingle under our custom pendants was singled out as "The Most Beautifully Designed Bar in Virginia" by Architectural Digest in 2018. The building, once condemned and now approaching its hundredth anniversary, is not going anywhere: It's been placed on the National Register of Historic Places.
The Bristol Hotel is a good example of how we can be your one-stop shop for a hospitality lighting project. Combining world-class standard product from across our four distinct brands (Corbett and Hudson Valley in this case) with custom pieces, we were able to satisfy this project's requirements while providing lighting that elevated the environment.